A flourless chocolate cake pretending to be a brownie! Rich, decadent, and so fudgy! A must try for chocolate lovers!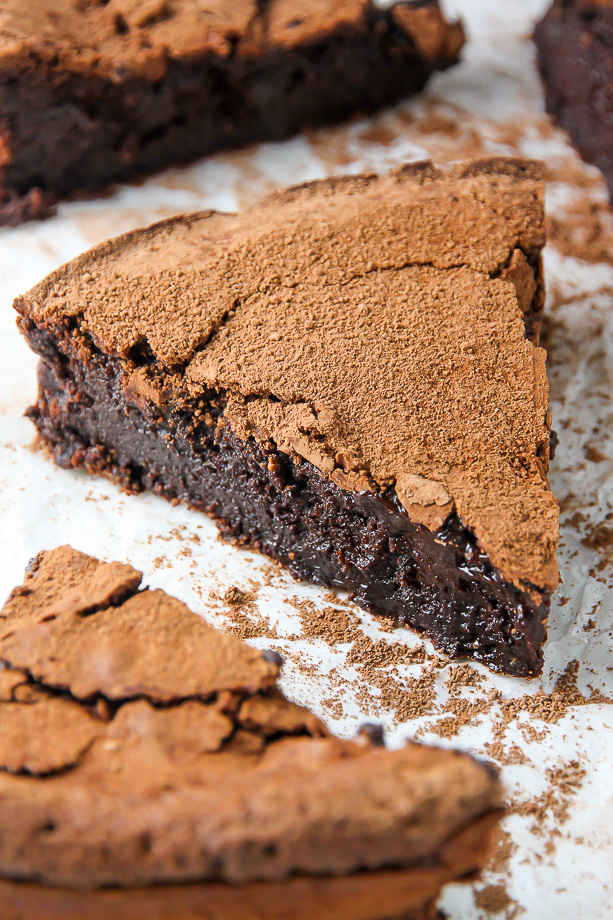 Flourless Chocolate Cake Recipe
I've been waiting all week to share this cake with you! It's rich, fudgy, and utterly decadent. It's Friday worthy! Cause we all know weekend calories don't count, right…? 😉
A few years ago I shared with you this Flourless Chocolate Whiskey Cake with Whiskey Pudding Sauce and – based on the comments and emails I've received – you guys love it! Not too long ago I started craving a slice for myself. The only problem? I was out of whiskey. No idea how that happened…
Instead of running out to the store, I decided to make an equally delicious booze free version for all of my fellow bakers who find themselves in a "dry" kitchen. The results? OMG so good.
Flourless chocolate cake? Yes. Flourless chocolate cake that tastes like a fudge brownie? Hell YES. Naturally I couldn't wait to share this with you!
Fudgy Flourless Chocolate Cake
This flourless chocolate fudge cake is really easy to make. First you'll need to set out 6 eggs – they need to come to room temperature. While you wait, melt your butter and chocolate. You'll need 12 ounces of both.
You'll stir the butter and chocolate together until both are melted and can easily be whisked smooth. If you use chocolate chips, I recommend staying near the pan the entire time as they melt much faster than chopped chocolate. Once melted, you'll remove the pan from heat and set it aside to cool for 10 minutes. You can use this time to backemble the rest of your ingred*ents.
Credit: Recipes Need