Amazing homemade Meatloaf Recipe. The meatloaf is so tender and juicy on the inside with a sweet and tangy glaze that adds so much flavor to the meatloaf.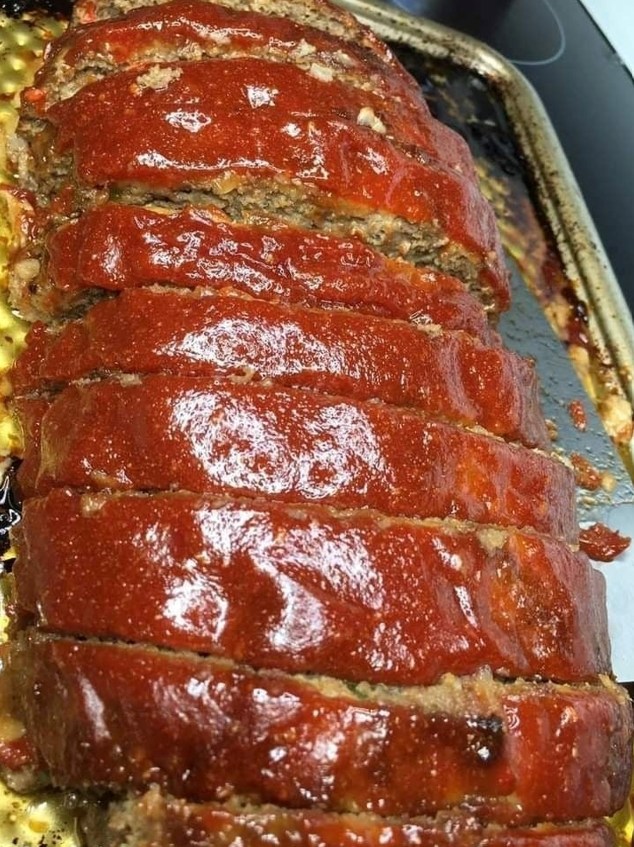 The concept of meatloaf kind of makes me raise an eyebrow because, well, it's a loaf of meat. But when it's executed well it's just so good. So filling, so cozy, and so delicious that I look forward to eating the leftovers over the next few days (hello meatloaf sandwich, I'm looking at you). This Classic Homemade Meatloaf recipe is the traditional meatloaf that we all know and love—tender, juicy, full of flavor, and with the perfectly tangy tomato glaze on top. It's so perfect when paired with mashed potatoes and green beans. Like a plate of pure comfort!
Ingredients
1 1/4 C. old fashioned rolled oats
1/4 cup milk
1 lb. ground beef
2 large eggs, beaten
1 pkg. dry onion soup mix
1 clove garlic, minced
1 T. Worcestershire sauce
3 T. ketchup
1/2 tsp. pepper
Topping
1/4 C. ketchup
1 tsp. Worcestershire sauce
1 tsp. yellow mustard
How To Make Homemade Meatloaf
Place the oats in a large bowl and add the milk. Stir to coat the oats and let sit for about 15 minutes to soak up the milk. Add in the ground beef, eggs, onion soup mix, garlic, Worcestershire sauce, ketchup and pepper.
Use you hand and mix it all together working the oats into the meat.Once it's all pulled together place it in a 9 x 9 baking pan and form into a loaf about 1 & 3/4″ thick. Place in a 375 degree oven for 30 minutes.
Meanwhile make the topping by whisking the ingredients together. After 30 minutes in the oven, remove and brush with the topping and coat the sides too. Place back in the oven for 10 more minutes. Let sit for 5 minutes before slicing
Credit: Recipes Need