Blueberry Cream Cheese Muffins with Streusel Crumb Topping are moist and flavorful breakfast muffins, loaded with juicy blueberries and cream cheese filling. These muffins burst with berries in every single bite and make an irresistible flavor combo with a smooth and creamy filling and crunchy topping. Cream cheese muffins are a delicious twist on my Blueberry Muffins with Streusel Crumb Topping.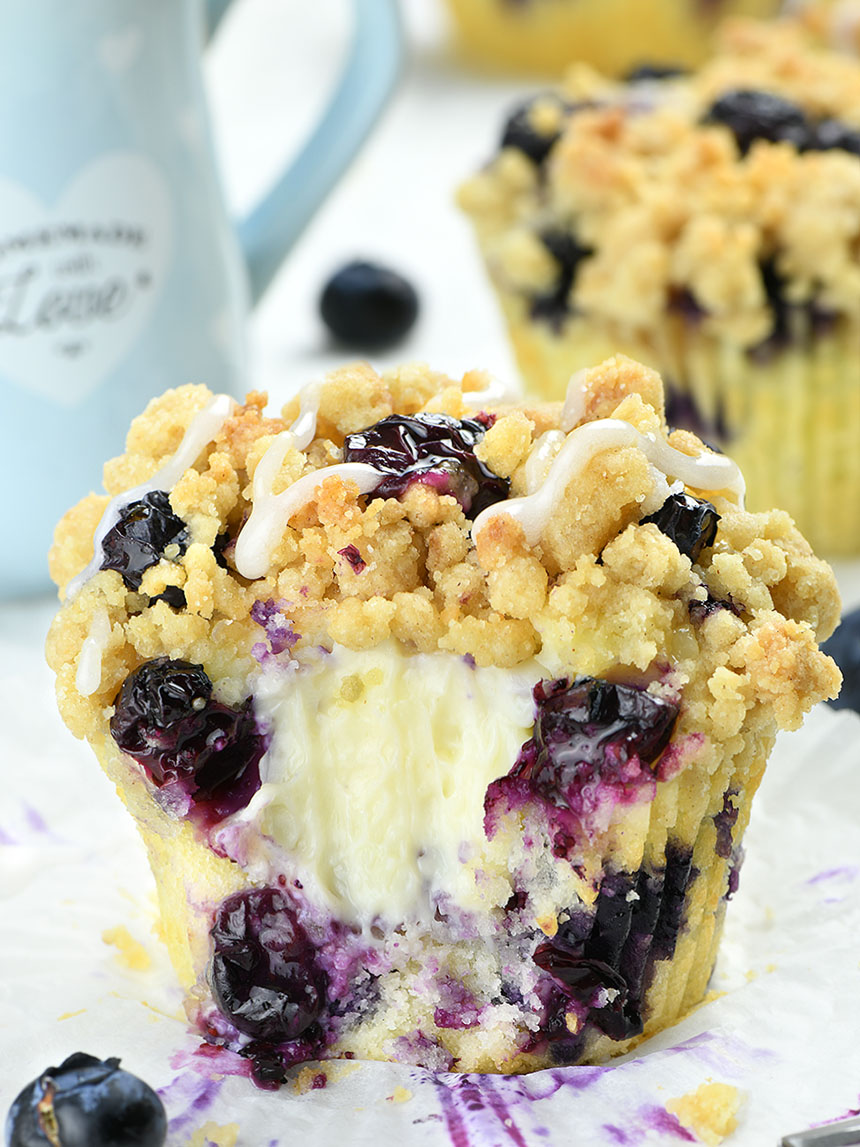 Blueberry Cream Cheese Muffins
This simple and easy recipe is an upgraded version of my to-go blueberry muffins. After the first one, I shared Lemon Blueberry Muffins and Blueberry Cobbler Muffins. As you already knew I am a huge fan of the blueberry and cream cheese combo. If you are too, you can check my Blueberry Crumble Cheesecake Pie, Blueberry Cream Cheese Coffee Cake, Blueberry Cheesecake Crumb Cake…
I love good homemade bakery-style muffins, but lately, I like to add cream cheese filling to my muffins. I did it with the Strawberry muffins recipe and Lemon Cream Cheese Muffins, too.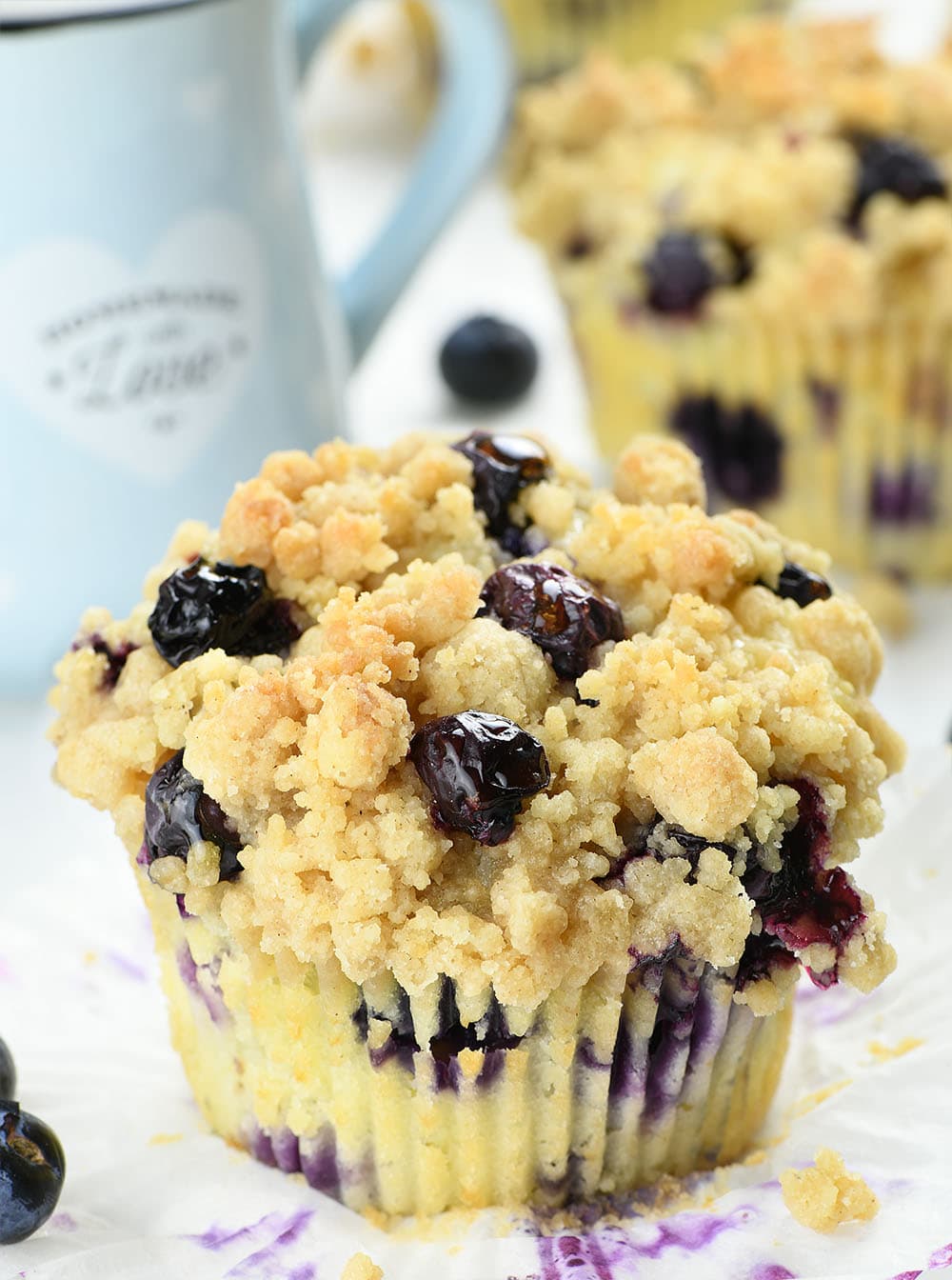 How to Make Blueberry Cream Cheese Muffins?
Making homemade muffins is super simple, even if you are not an experienced baker.
With just a few basic ingredients and fresh blueberries, in only half an hour you will have an outrageous breakfast to start your day.
Start with crumb topping. Whisk flour, brown sugar, and melted butter until all crumbs are evenly moistened, and make coarse crumbs.
Next prepare a cream cheese mixture. Beat cream cheese with sugar, vanilla, and corn-starch. To make the muffin batter you don't even need to use a mixer. Just whisk flour, salt, and baking powder.
Using a whisk, beat an egg, sugar, oil, vanilla, and Greek yogurt. And don't worry about the Greek yogurt. Many people asked how can replace yogurt in a recipe because they don't like it. I always use yogurt in my muffin recipes because it makes the muffins super moist, but you can't even taste it when the muffins are done.
When you whisk wet ingredients, next add dry ingredients and whisk to combine. Finally, fold in blueberries and divide the mixture in paper liners. Add cream cheese mixture, more blueberries, and crumb topping. Bake for about 22 minutes, or until the tops are golden brown. Let them cool and enjoy.
Blueberry Cream Cheese Muffins
Prep Time: 20 minutes Cook Time: 25 minutes Yield: 9 1x Category: breakfast/desserts Method: bake Cuisine: American
Description
Blueberry Cream Cheese Muffins with Streusel Crumb Topping are moist and flavorful breakfast muffins, loaded with juicy blueberries and cream cheese filling.
Ingredients
Streusel Crumb Topping:
2/3 cup all-purpose flour
1/3 cup light brown sugar
¼ teaspoon salt
¼ cup unsalted butter-melted
Blueberry Muffins:
1 cup all-purpose flour
¼ teaspoon salt
1 teaspoon baking powder
¼ cup vegetable oil
½ cup granulated sugar
1 large egg
½ teaspoon vanilla
½ cup Greek yogurt
1 ½ cup fresh blueberries (half goes in batter and half for topping)
1 Tablespoon flour to toss the blueberries
Cream Cheese Filling:
6 oz. cream cheese-room temperature
3 Tablespoons granulated sugar
1 teaspoon vanilla
1 teaspoon corn starch
Glaze:
¾ cup powdered sugar
1 ½ –2 ½ teaspoons milk or creme
Cook Mode Prevent your screen from going dark
Instructions
Preheat the oven to 425 F, line cupcake pan with paper liners ad set aside. This recipe makes 9-10 muffins.
Divide blueberries in half. Toss ¾ cup of blueberries with 1 Tablespoon flour. Reserve remaining ¾ cup of blueberries for topping. Set them aside.
To make the crumb topping, stir together flour, sugar, and salt. Add melted butter and whisk with a fork until coarse crumbs form. Set aside.
To make the muffins in a large bowl stir together flour, baking powder, and salt and set aside.
In a medium bowl, whisk together egg and granulated sugar until combined. Whisk in yogurt, oil, and vanilla extract.
Add dry ingredients into wet ingredients and mix everything together by hand.
Finally, using a rubber spatula, fold in blueberries (3/4 cup blueberries tossed with 1 Tablespoon flour). Reserve ¾ cup blueberries for topping.
To make the cream cheese filling, mix softened cream cheese, sugar, corn starch, and vanilla just to combine.
To assemble the muffins, add about 1 ½ Tablespoon of muffin mixture to each cup. Using a spoon spread the mixture up the side of paper liners to make the small dent in the center. Drop 1 not quite a full Tablespoon of cream cheese mixture in the center of each muffin. filling each cup about 2/3 to ¾ full.
Add a few blueberries on top, then generously top each muffin with streusel crumbs. Add a few more blueberries on top and gently press the crumbs to stick to the muffin batter.
Place in preheated oven and reduce the temperature to 350 F. Bake 22-25 minutes, or until the tops are golden brown and the center has set.
Cool 5-10 minutes in the pan, then transfer the muffins on a rack to cool completely.
Meanwhile, prepare the glaze. Stir powdered sugar with milk or cream. Start with 1 teaspoon of the liquid and gradually add more until desired consistency has reached. Drizzle over muffins and serve.
Credit: Heavenly Recipe