Make a takeout staple at home in 30 minutes, with just 15 minutes of cooking time! This Shrimp Lo Mein recipe with tender egg noodles, crispy vegetables, and juicy shrimp is easy to make and customize with your favorite add-ins.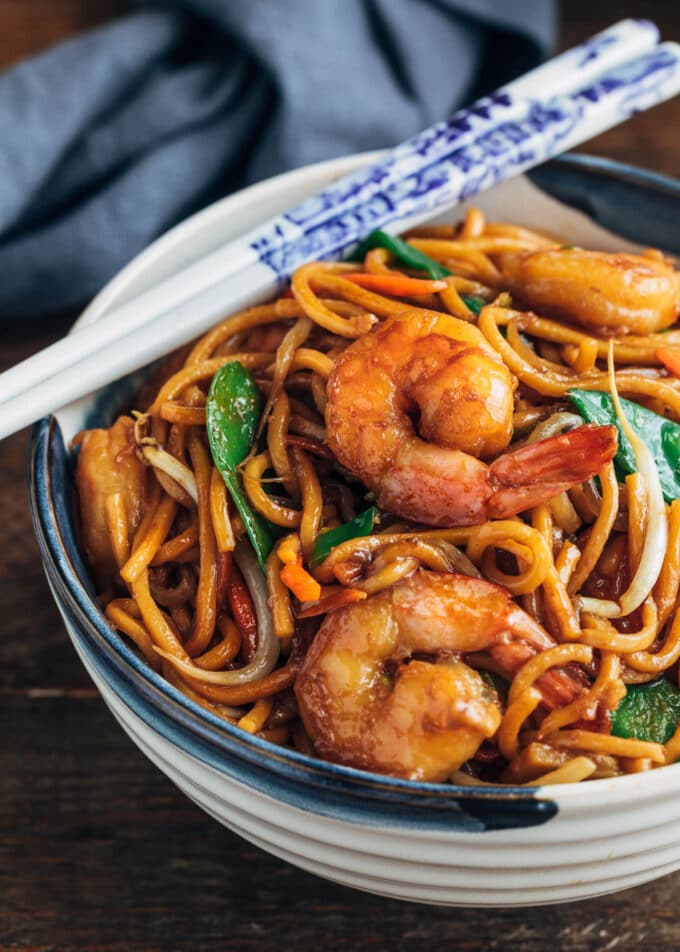 WHAT IS LO MEIN AND HOW DOES IT DIFFER FROM CHOW MEIN?
Lo mein translates to "tossed noodles," with mein (or mian) being the Chinese word for "noodles." The dish differs from Chow mein ("fried noodles") in cooking style and composition.
Lo mein noodles are boiled separately from the stir-fry. Once cooked, the soft noodles are tossed into the pan with the stir-fried vegetables and protein (chicken, beef, shrimp, etc.), coating them with sauce.
Chow mein noodles are only par-cooked before being finished in oil in the stir-fry pan itself. Chow mein is typically less saucy than lo mein with fewer vegetable and protein add-ins. Fried chow mein noodles are crispier than boiled and tossed lo mein noodles.*
All of this having been said, I've noticed regional differences in how these terms are used in the United States. What most of my West Coast friends call "Chow mein" is a steamed noodle dish closer to what we know as "Lo mein" on the East Coast. For crispy noodles, friends have told me that they order "Hong Kong Style Chow Mein."
ABOUT LO MEIN NOODLES
Chinese lo mein noodles are long egg noodles, typically about ⅛- to ¼- inch thick. You can find them fresh, frozen, or dried.
Whenever possible, I like to use fresh lo mein noodles. Like most fresh pasta, they only take a few minutes to cook to al dente, depending on the thickness.
You can buy fresh lo mein noodles in the refrigerated section of most Asian markets. They'll be a light yellow in color, and should be either used or frozen within a couple of days of purchasing. They mold if held too long in the refrigerator.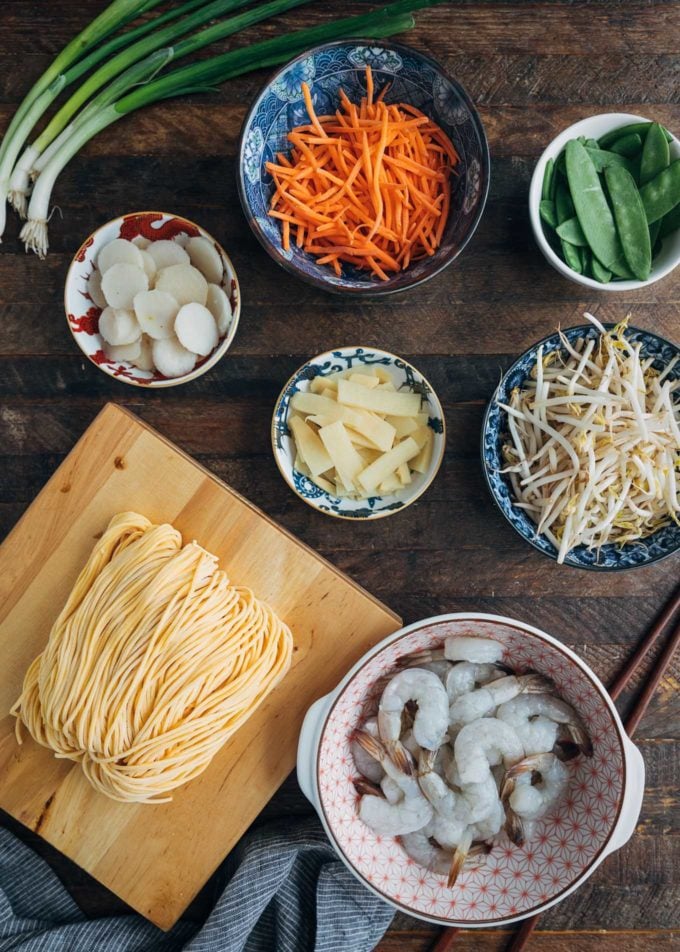 My regular grocery store also stocks the same brand of "fresh" noodles that I buy at the Asian market in their freezer section. Honestly, when they're defrosted, they're just as good as buying fresh. I defrost mine overnight in the refrigerator before using.
If you're unable to buy fresh or frozen, you can also use dried lo mein noodles. They will take closer to 5-6 minutes to boil to al dente. I often see them in the International aisle at the regular grocery store.
In a pinch, you can also substitute long pasta, such as thick spaghetti, bucatini, or linguine. It won't be authentic to takeout, but it's an option if you're unable to source Lo mein noodles.
Regardless of the noodles you use, it's important to make sure that you don't overcook them when boiling. You want them to be tender, but not so soft that they'll fall apart when you toss them with the rest of the ingredients.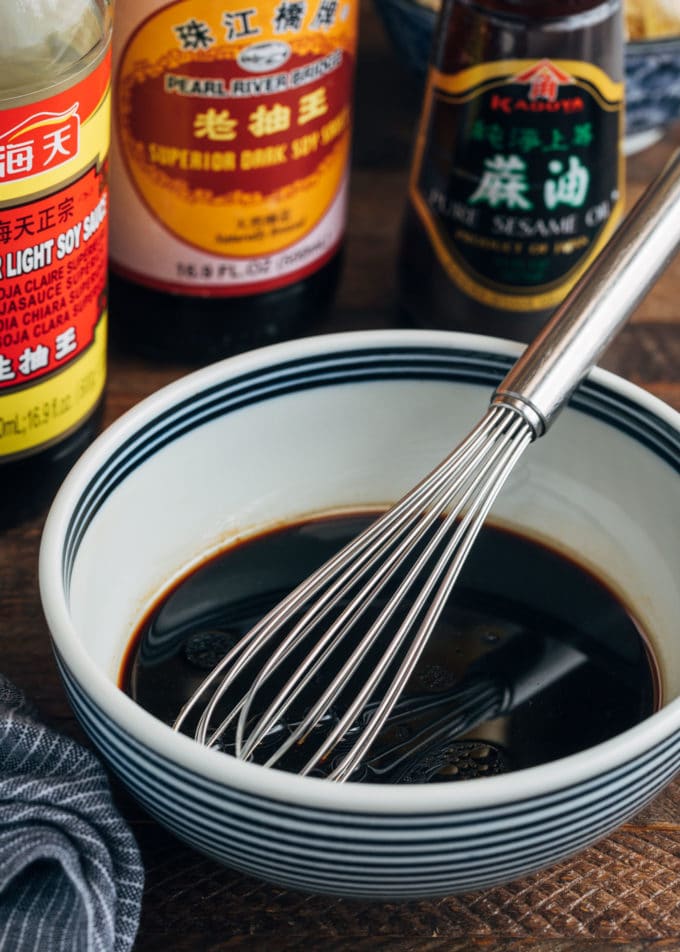 MAKING SHRIMP LO MEIN
Lo Mein is an easy recipe that's perfect for a weeknight meal. You can even prep the sauce and vegetables ahead to make this dinner just as quick as calling for takeout.
DO I NEED A WOK FOR LO MEIN?
No. You can make lo mein in either a wok or a large non-stick skillet (12-inches). For home stoves, more important than the wok vs. skillet distinction is making sure that your pan is hot enough to stir fry the ingredients without steaming them.
For the best flavors and textures, you want the pan to be quite hot so that you can quickly cook the vegetables to crisp tender, and the shrimp until juicy and opaque. This will only take a couple of minutes for each element!
WHAT VEGETABLES CAN I USE?
You can add just about any vegetables you like to your lo mein! My favorites are snow peas, carrots, scallions, water chestnuts, bamboo shoots, and mung bean sprouts.
Other popular additions are sliced yellow onions, bell pepper strips, shredded Napa cabbage, mushrooms, and broccoli. If you can stir-fry it, you can add it to your lo mein.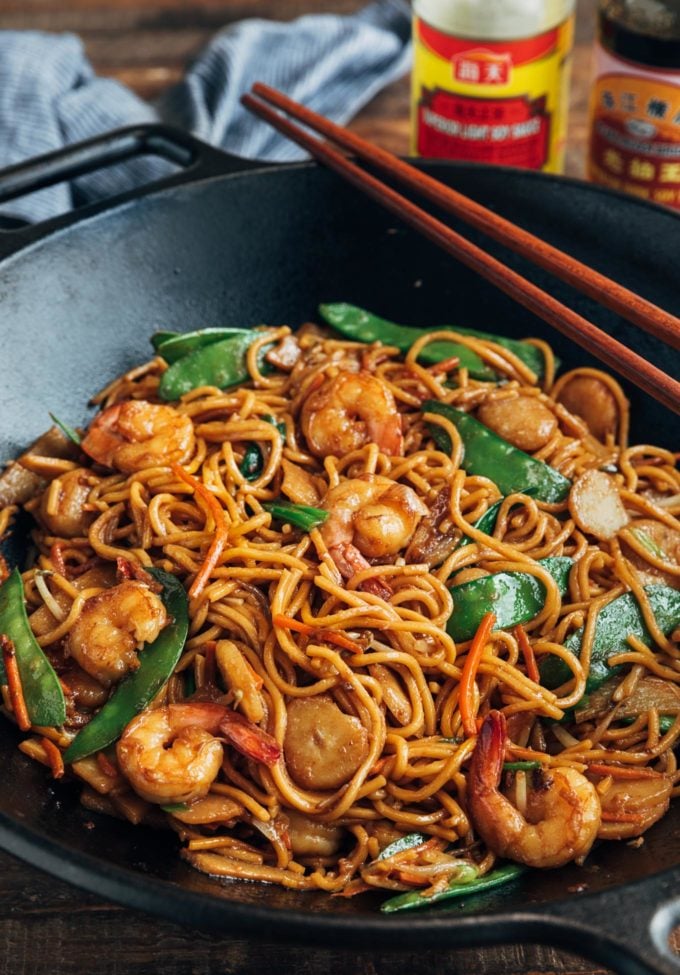 MAKING LO MEIN SAUCE
The sauce for Shrimp Lo Mein is a fairly simple combination of dark and light soy sauces, Shaoxing wine, and oyster sauce, with a touch of toasted sesame oil and sugar. It has a nice depth of flavor and is fairly salty in flavor.
True story: the first time I made lo mein at home years ago, I tasted my sauce before tossing it with the noodles and hesitated to finish the stir-fry with it. It seemed so salty on its own!
I decided to go for it, and it turned out to be exactly the amount of seasoning the lo mein needed. The noodles are quite bland on their own, and you're using the sauce to season a lot of vegetables and shrimp, so it balances out. If you do want to reduce the sodium content, you can substitute low sodium soy sauce for the light soy sauce.
Dark soy sauce is what gives the lo mein noodles their characteristic caramelized color. If you're unable to source dark soy sauce, you can use all light or all-purpose soy sauce. The flavor of the finished dish will be similar, but the color will be lighter.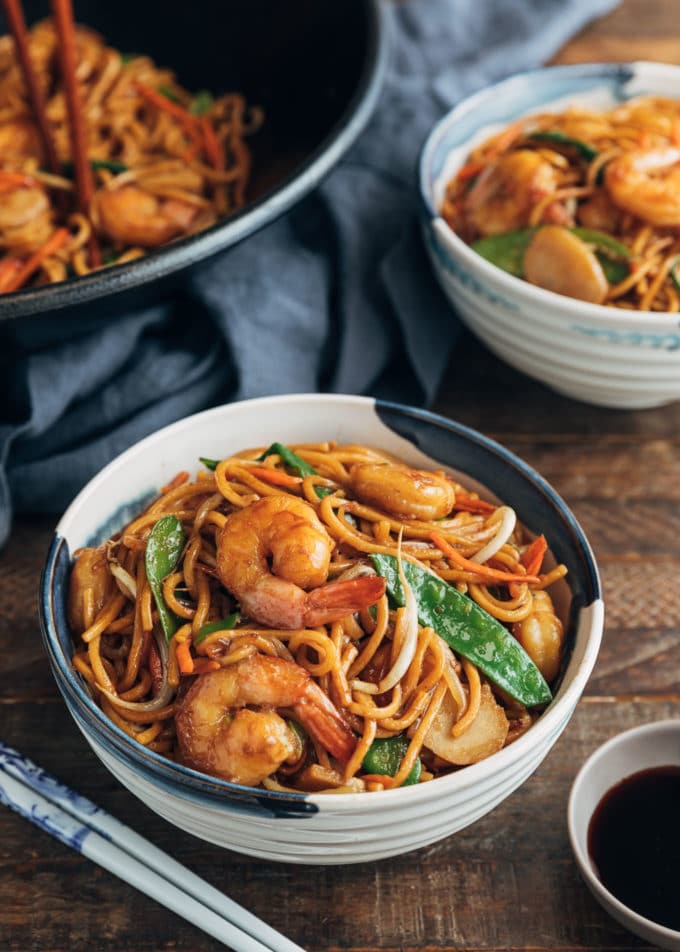 SERVING SHRIMP LO MEIN
I always offer my guests extra soy sauce at the table for those who want a fresh pop of umami and saltiness with their lo mein. For a spicy twist, this recipe is delicious drizzled with chili oil. And, for a tangy note, some enjoy a few drops of rice vinegar over their noodles.
I like to serve lo mein fairly quickly after stir-frying so that the vegetables are at their freshest and crispest. Just like takeout, though, leftovers reheat pretty well the next day for lunch or a second night's dinner.
Especially if microwaving the leftovers, I like to pull the shrimp out and add them just toward the end of reheating so that they don't become tough and overcooked.
Shrimp Lo Mein
It's easy to make Shrimp Lo Mein at home that tastes like it came from your favorite Chinese-American restaurant! Prep the vegetables ahead to make this recipe just as quick as takeout.
Course: Main Course Cuisine: Asian
Prep Time: 15minutes minutesCook Time: 15minutes minutesTotal Time: 30minutes minutes Servings: 4 to 6 people Estimated Calories: 711kcal
Ingredients
▢1 pound lo mein noodles (fresh, if possible)
Sauce
▢2 tablespoons light soy sauce
▢1 tablespoon dark soy sauce
▢2 tablespoons Shaoxing wine
▢2 tablespoons oyster sauce
▢1 teaspoon granulated sugar
▢1 teaspoon toasted sesame oil
▢pinch ground white pepper
Stir-Fry
▢6 scallions
▢3 tablespoons vegetable oil , divided
▢1 cup shredded carrots
▢1 cup snow peas , trimmed
▢8 ounce can water chestnuts , drained
▢8 ounce can bamboo shoots , rinsed and drained
▢1 pound raw shrimp (26/30) peeled, deveined, tail on or off
▢1 tablespoon minced garlic cloves
▢2 teaspoons grated fresh ginger (I use a microplane)
▢2 cups mung bean sprouts
▢extra soy sauce, chili oil, and/or rice vinegar , for serving (optional)
Instructions
Make the Noodles
Boil lo mein noodles in a pot of lightly-salted water for 3-5 minutes, until al dente. Drain and rinse under cool water. Set aside.
Make the Sauce
While the noodles are boiling, whisk together light and dark soy sauces, Shaoxing wine, oyster sauce, sugar, sesame oil, and white pepper in a bowl. Set aside.
Make the Stir-Fry
Cut the scallions in half to divide them into the dark green and white/light green parts. Thinly-slice the white/light green parts. Cut the dark green parts into 1 or 2 segments of about 2 inches. Set aside.
Heat a wok or large (12-inch) skillet over high heat until very hot. Add 1 tablespoon vegetable oil and sauté carrots, snow peas, water chestnuts, and bamboo shoots for about 2 minutes, until crisp-tender. Remove from the pan and set aside.
Heat another tablespoon of oil in the wok or pan and sauté shrimp until pink, translucent, and lightly brown on the edges, about 2-3 minutes. Remove from the pan and set aside.
Heat the remaining 1 tablespoon of oil in the wok or pan and add garlic, ginger, and the sliced white and light green scallions. Sauté for 1 minute. Add sautéed vegetables, shrimp, noodles, and bean sprouts to the pan, tossing to combine.
Pour the sauce mixture around the sides of the pan and add the dark green scallion parts. Cook, tossing, for 1-2 minutes.
Taste the lo mein. Season to taste with additional soy sauce and ground white pepper, if desired. Serve hot or warm, with soy sauce to pass at the table, a drizzle of chili oil if you like the dish spicy, or a few drops of rice vinegar for a tangy finish (all optional).
Nutrition Estimate
Serving: 0.166recipe | Calories: 711kcal | Carbohydrates: 103g | Protein: 39g | Fat: 15g | Saturated Fat: 9g | Cholesterol: 285mg | Sodium: 2263mg | Potassium: 510mg | Fiber: 7g | Sugar: 8g | Vitamin A: 5790IU | Vitamin C: 33.5mg | Calcium: 216mg | Iron: 4.8mg
Keyword: Chinese takeout recipes, easy Chinese recipes, shrimp lo mein recipe
Credit: Everyday Recipes