This over-the-top Espresso Chocolate Pudding Pie is a chocolate lovers dream come true! Featuring a chocolate cookie crust, silky smooth espresso chocolate pudding, and a luscious layer of freshly whipped cream, this recipe is always a crowd-pleaser! Top with chocolate curls for a show stopping presentation!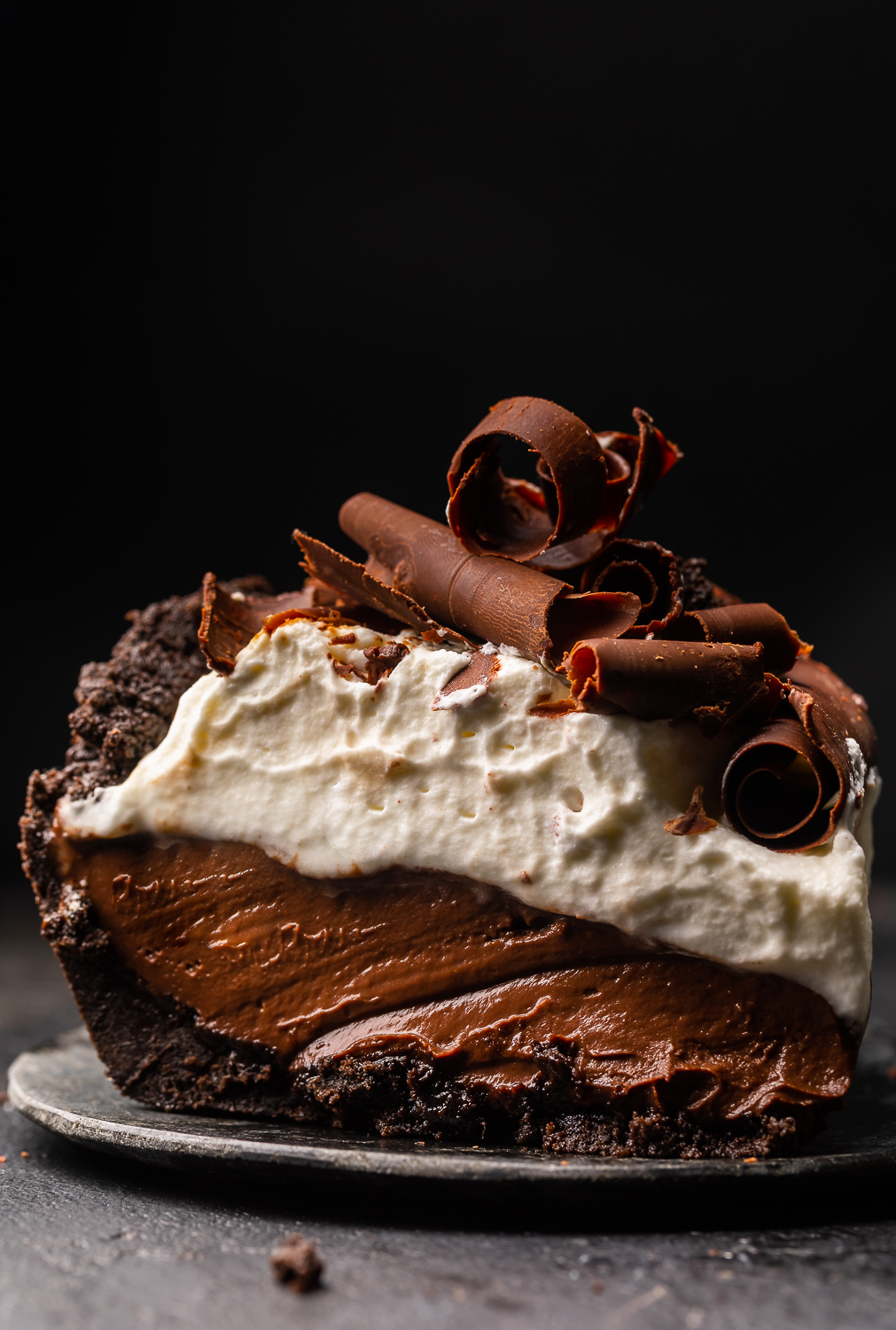 It's no secret I'm obsessed with espresso powder! It's my favorite "secret ingredient"… especially when it comes to chocolate desserts! Just a tiny dash enhances and intensifies the chocolate flavor, without adding an overwhelming coffee flavor. Which is why I use it in almost ALL of my chocolate recipes!
So today I'm thrilled to be teaming up with my friends at DeLallo! Their instant espresso powder is a staple in my kitchen, and the only brand I reach for! It's also a key in ingredient in this EPIC espresso chocolate pudding pie! Espresso powder is used in the chocolate cookie crust as well as the chocolate pudding filling, which not only deepens the featured flavors, but balances them as well!
Just one bite and you'll know what I mean!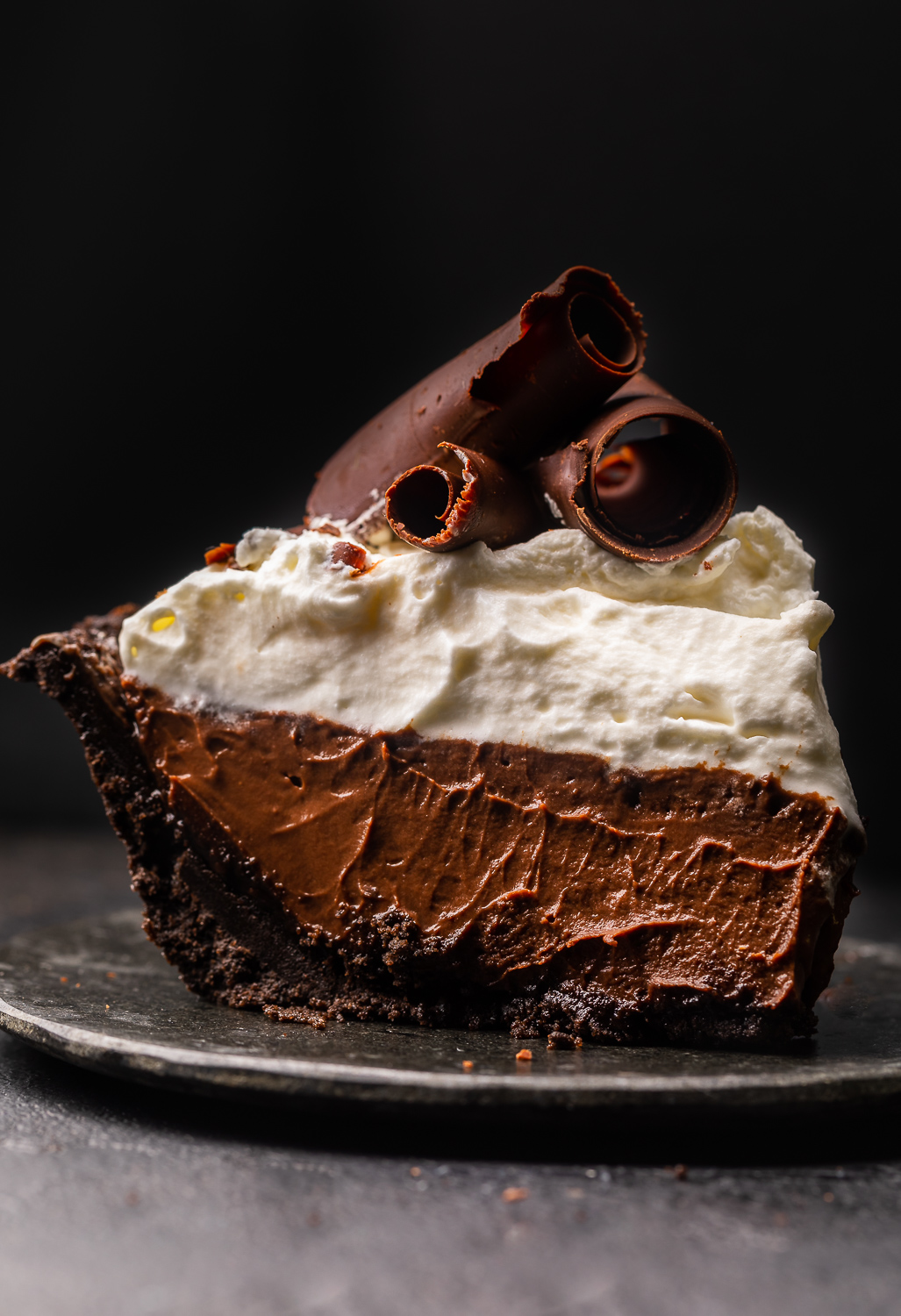 Tips and Tricks for Making Perfect Chocolate Pudding Pie!
Make sure you have a deep dish 9″pie plate. If your pie plate is too shallow or small, you won't have even room for your filling. It should be able 1.5 qt capacity. A 10″pie dish will also work, but your crust will be thinner and so will your filling.
You'll need a food processor or high-powered blender to make the pie crust. You'll need to pulverize the chocolate sandwich cookies into fine crumbs. I have not tested this recipe using chocolate graham crackers or wafers, and cannot advise how to substitute.
The chocolate pudding filling is made on the stovetop! You'll place the milk, sugar, and chocolate in a medium saucepan over medium high heat and cook until the chocolate is completely melted. Then you'll remove from heat and combine 1 cup of this mixture with the cornstarch, cocoa powder, mixture.
Cook your pudding mixture, stirring CONSTANTLY, until it thickens up and heavily coats the back of a spoon. Then add the butter and vanilla, and scrape it into a large bowl and cool. Once cool to the touch, scrape into your pie shell. Then press plastic wrap on top and chill.
This pie MUST chill for at least 6 hours. If you slice into before that, it'll be too loose to hold its shape. The good news? It can be made up to 48 hours before serving! Just keep chilled in the fridge.
Finally, you'll want to make the whipped cream right before serving! Make sure you start with a very cold bowl, and whip until medium-firm peaks form.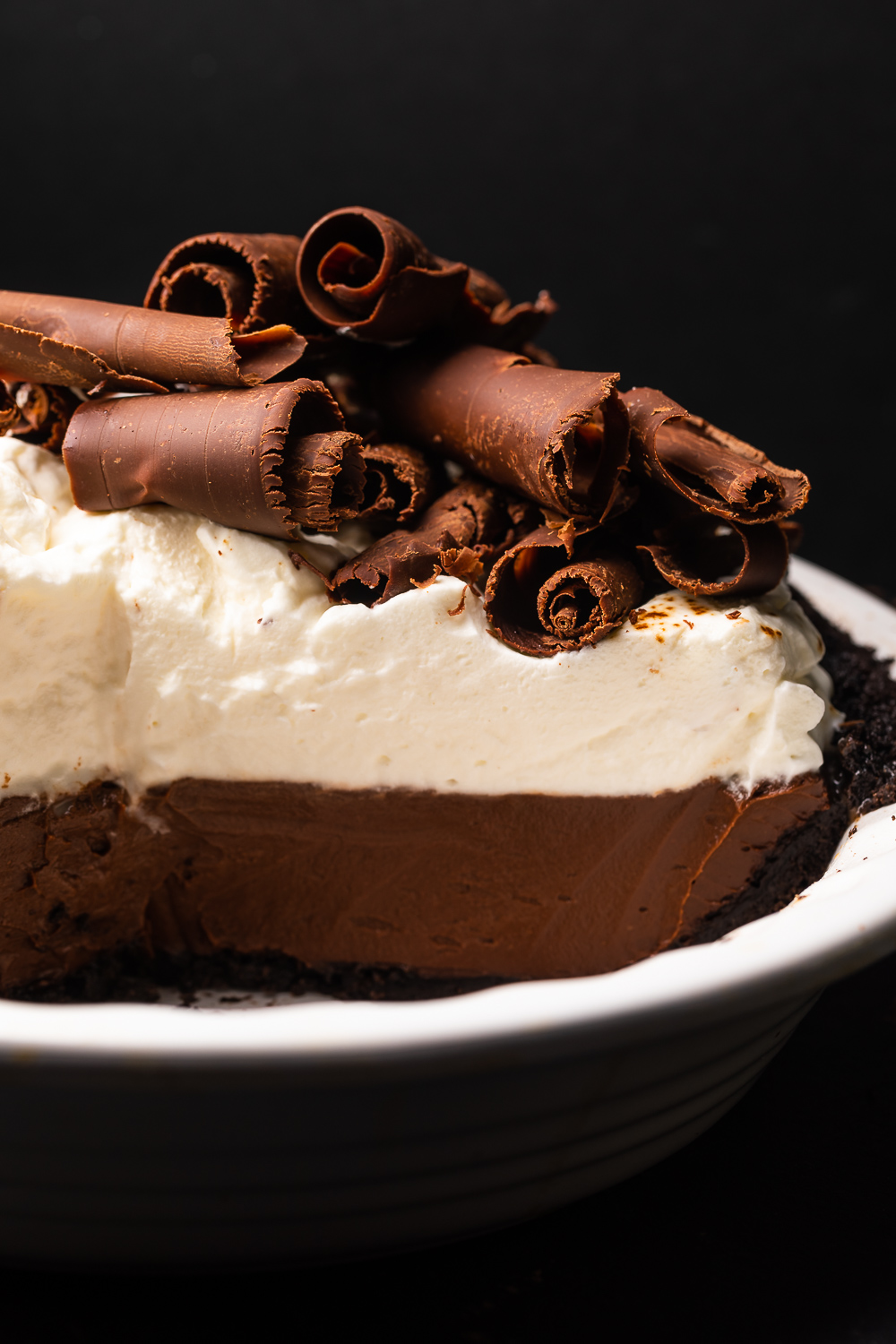 Ingredients
For the Chocolate Cookie Crust:
38 regular full-size oreo cookies crushed into fine crumbs (do not remove the filling)
8 Tablespoons (113 grams) unsalted butter melted
1 teaspoon DeLallo instant espresso powder
For the Espresso Chocolate Pudding Filling:
1/3 cup (39 grams) cornstarch
2 Tablespoons (8 grams) Dutch-process cocoa powder
1/4 teaspoon salt
1 and 1/2 teaspoons DeLallo instant espresso powder
1/2 cup (113 grams) heavy cream
2 and 1/2 cups (567 grams) milk
1 cup (198 grams) granulated sugar
8 ounces semi-sweet chocolate roughly chopped
2 Tablespoons unsalted butter cold, cut into tiny pieces
1 teaspoon vanilla extract
For the Freshly Whipped Cream:
2 cups (340 grams) heavy cream cold
1/3 cup (40 grams) confectioners' sugar sifted
For Chocolate Curls:
4 ounces semi-sweet chocolate
2 Tablespoons unsalted butter
Instructions
For the Chocolate Cookie Crust:
Lightly spray a 9-inch deep dish pie plate with nonstick spray. Set aside until needed.
In a large bowl, combine the crushed chocolate cookie crumbs, melted butter, and espresso powder. Mix well to combine.
Press the crust into the prepared pie plate, pressing it firmly and evenly into the middle and up the sides.
Place the crust in the freezer for 30 minutes.
For the Espresso Chocolate Pudding Filling:
In a medium bowl whisk together the cornstarch, cocoa powder, salt, and espresso powder. Whisk in the heavy cream until evenly combined. Set aside.
In a medium saucepan, combine the milk, sugar, and chocolate. Place over medium heat and cook, stirring constantly, until the chocolate is completely melted.
Remove pan from heat. Add 1 cup of the hot chocolate mixture into the cocoa powder mixture, and whisk smooth. Then return this mixture back to the pan.
Return the pan to heat and continue cooking over medium-high heat, whisking constantly, until the mixture begins to bubble. Continue cooking for 1 to 2 minutes, or until thick enough to coat the back of a spoon.
Remove pan from heat and whisk in the butter and vanilla. Cool pudding, at room temperature, until cool to the touch. Then scrape the pudding into the prepared pie shell.
Cover with plastic wrap, pressing it down on top of the pudding so a skin doesn't form. Refrigerate for at least 6 hours, and up to 24 hours.
For the Freshly Whipped Cream:
In a large bowl using a handheld electric mixer, or in the bowl of a stand mixer fitted with the whisk attachment, beat the cream on medium-low, slowly adding in the confectioners' sugar.
Increase to medium-high speed and whip until medium-stiff peaks form.
Right before serving, dollop the whipped cream on top of the pie. Top with chocolate curls, and serve at once!
For the Chocolate Curls:
Place the chocolate and butter in a microwave safe bowl. Heat, on low power, in the microwave, in 30 second increments, stirring between each increment, until both ingredients are completely melted.
Pour the melted mixture onto a flat 9×13 baking sheet, and, using an offset spatula, spread it as thin as possible.
Place the pan in the freezer for 5 minutes.
Remove the pan and, using a cheese shaver or scraper, scrape the chocolate off the pan, creating curls. If the chocolate sticks to the scraper, it's still too soft and should be returned to the freezer for a few more minutes. All chocolate shavings will be unique, so don't fret if you only get a few large curls. Practice makes perfect!
Keep chocolate curls chilled, in the fridge, until needed.
Credit: Baker By Nature